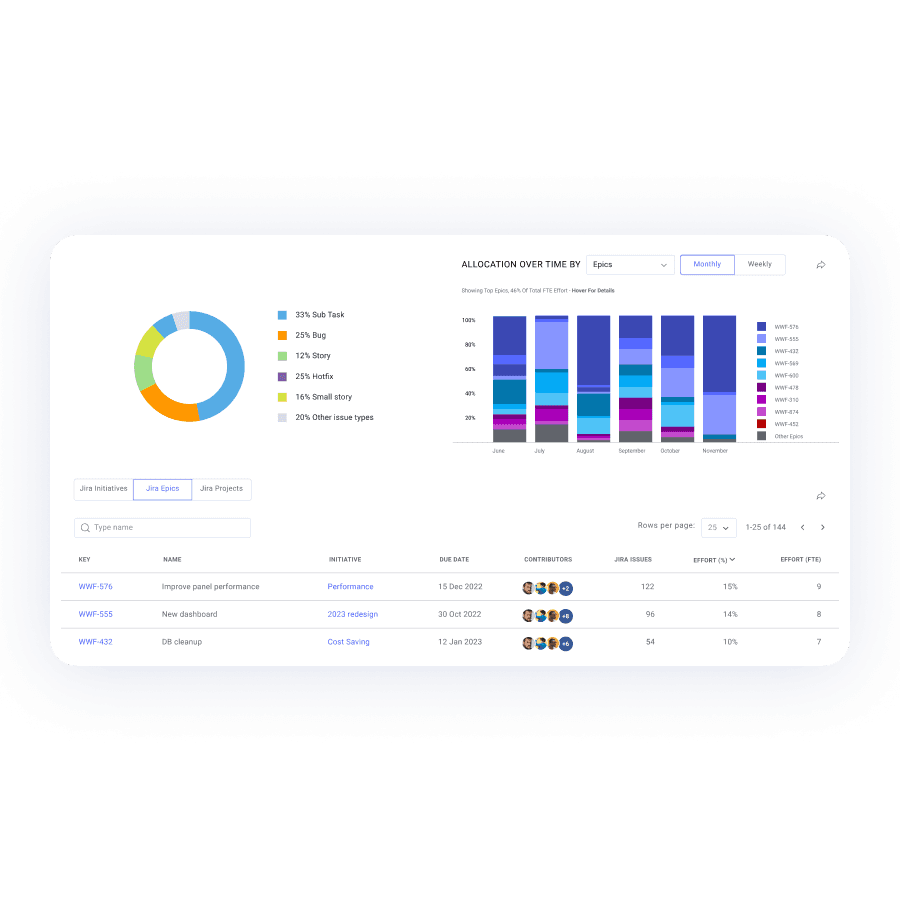 Translate Engineering Health

to Business Impact
Software development is a key driver of business success. Engineering leaders need to show how teams are moving the business forward–using terms other than "more story points." With LinearB you can:
Control spending with Resource Allocation
Reduce delay risks with Predictable Project Delivery
Automate reporting on capitalizable projects for finance
Build a connection between engineering output and ROI
Flat Budgets. More Demands.
Tough Calls.
Leaders know how to solve complex problems–and software development has no shortage of those. Engineering leaders face many challenges: competition, shrinking budgets, rising costs, and a lot of inefficiency baked into the SDLC. And "standard tools" lack meaningful visibility into or ways to improve team (and business) health–which just compounds these problems.
Prove Engineering ROI
with
Data-Backed Insights
Make the tough calls (correctly) with engineering metrics that translate to business impact. LinearB gives leaders the insight they need to scale efficiency (and revenue), prioritize projects correctly, rationalize investments, reduce costs, and answer "When will feature X be ready?" or "Can we get it faster?" before they ask.
"A great tool to focus your dev team in to what really matters"
Angel Blanco
Group Head of Site Reliability
|
G2 Review
Documentation
Learn how LinearB metrics can help you improve work breakdown and reduce cycle time, change failure rate, and mean time to restore.
Read LinearB Documentation
Blog
Explore the details of software delivery excellence, PR workflows, and how to persuade the boardroom as an engineering leader.
Podcast
With 13,000+ community members, Dev Interrupted is your weekly source for what engineering leaders are thinking, doing, & solving.
Listen to the Dev Interrupted Podcast