Discover the impact of an
Engineering Metrics Program
A holistic view into the health and efficiency of your organization
DORA Metrics:
The industry standard
LinearB supports the four DORA metrics, out-of-the box. The DORA Metrics dashboard provides you with the visibility you need and the flexibility you want.

Engineering leaders can define how each metric is calculated, while also being able to view your metrics by Team, Repository or Service across any time period.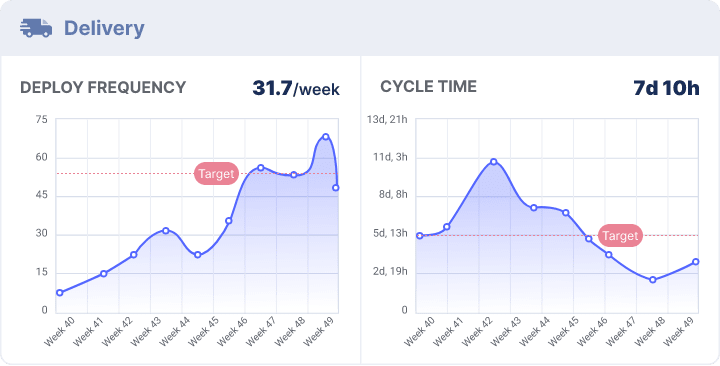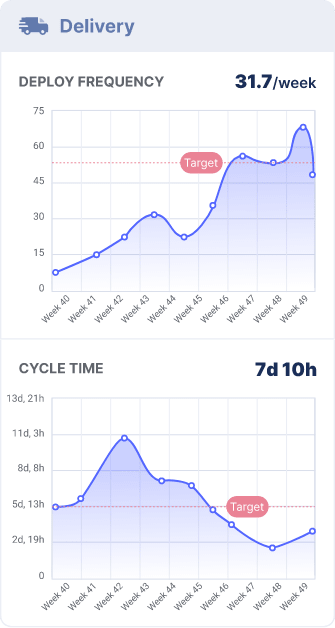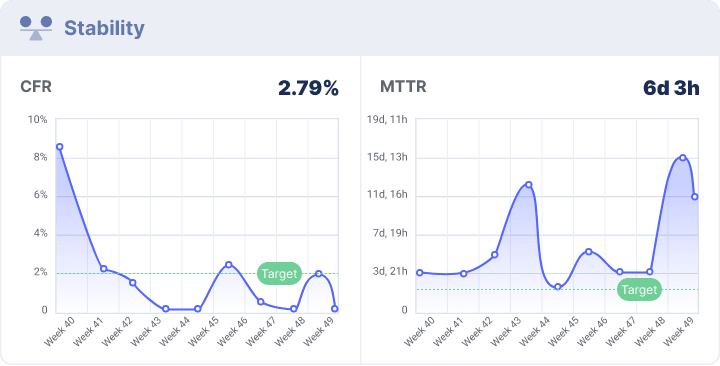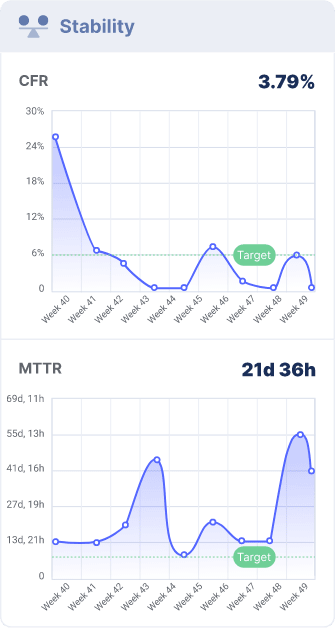 Engineering Metrics Benchmarks
Understand how your organization compares to the rest of the industry using the Engineering Metrics Benchmarks.
Read the report Reporting on Engineering health & efficiency
Provide your executive team with a holistic view into the health and efficiency of your engineering organization with LinearB metrics. An engineering metrics program helps you make an impact on delivery bottlenecks and org-wide improvements, while also providing a standard reporting structure.

Show your teams insights into what's going on and how to improve the way they work, without hours of sifting through Jira data.

Dev. Experience
Merge Frequency
PRs/dev/week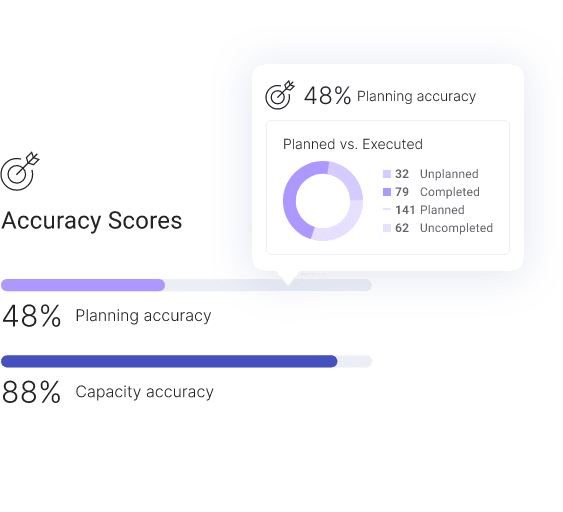 Deliver on Promises with forecasting metrics
Give business stakeholder project delivery forecasting metrics that give them confidence in your team. Metrics like Project Planning Accuracy and Team Capacity Accuracy, provide hard data that answers some of your most common questions, like "how is the project tracking?"
Continuous improvement starts here
When it comes to implementing a continuous improvement strategy, LinearB has you covered.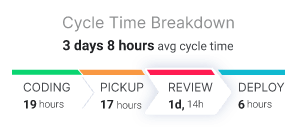 Identify Bottlenecks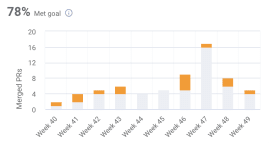 Set Goals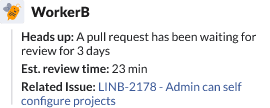 Automate Improvement
What continuous improvement
Looks Like with LinearB
Metrics Case Study
"After adopting LinearB, conversations started happening that weren't before.

My team leaders started coming to me and saying things like, our pull request reviews are taking too long, how can we reduce that? They were self-organizing, focused on improving themselves.

I love that WorkerB helps our developers improve our delivery process every sprint without manager involvement."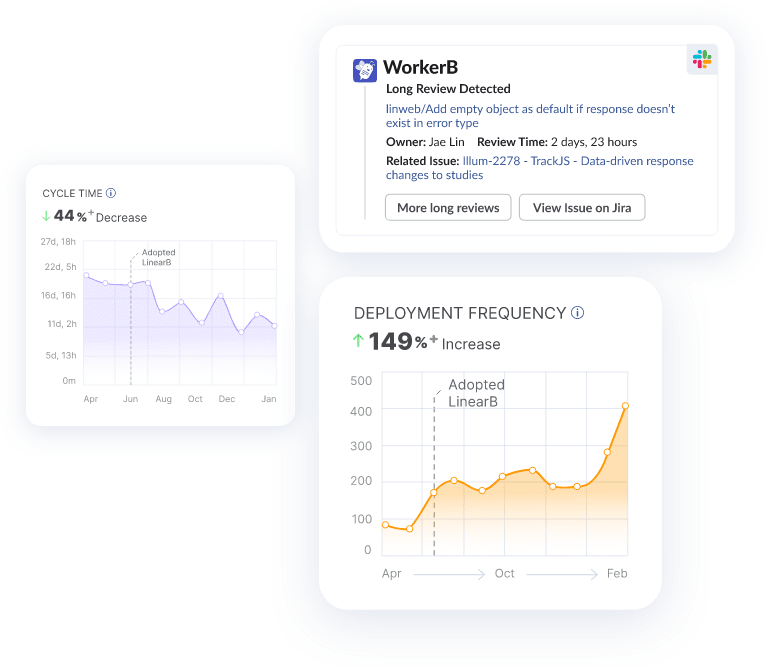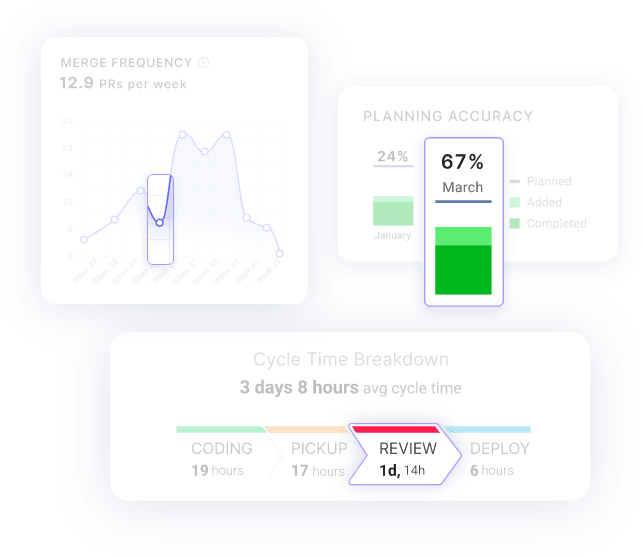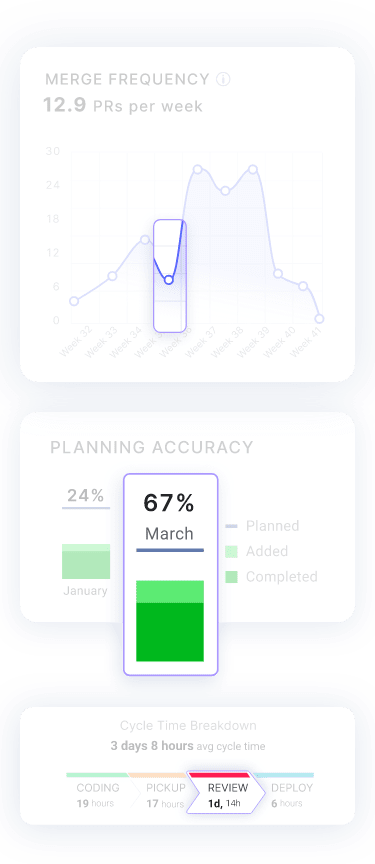 Identify Bottlenecks with
value stream visibility
Knowing where your bottlenecks exist is the first step of improving your engineering efficiency. Bringing this data to the meeting helps highlight areas for improvement and sets your teams off in the right direction.

When it comes to bottlenecks, workflow pipeline visibility is key. LinearB makes workflow bottlenecks visible at both the team and organization level. Dive deeper into any of the data points by clicking into the specific causes behind the graphs.
Focus your team with
data-driven goals
Data-driven engineering is an organization wide undertaking. Whether you set org. level OKRs like No PRs Merged without Review, or team level goals like keeping Cycle Time under 4 days, you will want to set and track goals with LinearB.
As the second step in your continuous improvement strategy, it's important to use the
Engineering Metrics Benchmarks
to baseline your activity and set milestones for the team and organization.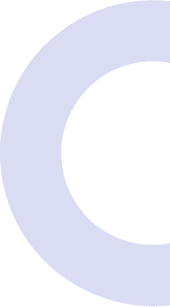 Curious about the relationship
between idle time and PRs?
Autonomous Improvement with
workflow automation
WorkerB is the first chat bot that autonomously improves your engineering metrics. Developers love WorkerB because it reduces context switching and automates away manual tasks. You will love WorkerB because it helps remind the team about the improvement goals they set and drive best practices.

Metrics don't improve dev teams, developer workflow automation does!