Perhaps you like to plug in while plugging away at work; or maybe you're like me and wait until evening so you can relax while listening to reveries of your favorite host. Whatever your style, I think we can all agree that when you discover a good software engineering podcast, it's important to share the wealth (of knowledge, that is)!
With access to uninterrupted conversations between (arguably) some of our generation's greatest minds, these shows have the power to expand your perspective and elevate your understanding from the palm of your hand.
Table of Contents
4 Best Software Podcasts for Dev Leaders
Dev Interrupted – 4.8 ⭐
Hosted by the one and only, Dan Lines, co-founder and COO of LinearB, Dev Interrupted is catered specifically to software engineering leaders. This down-to-earth podcast brings in dev leaders from popular companies, like Drata, Atlassian and Stack Overflow, to discuss an array of topics from metrics to developer experience.
This weekly podcast is perfect for engineering leaders at rapidly growing companies who don't have a lot of free time. Each episode is packed with actionable insights to help foster culture, navigate the inevitable hiccups and celebrate growth.
Where can I listen now: Spotify, Apple Podcast, Google Podcast, Stitcher
---
Join the Dev Interrupted community to discuss the Silicon Valley Bank crash, how Uber's engineering team lost its way, the challenge of AI self-driving, and Kyte's experimental product innovation playbook.
Kyte's Head of Product and Engineering, Nick Cobb, joins host Conor Bronsdon in New York City for this in-depth podcast streaming April 4th and 5th.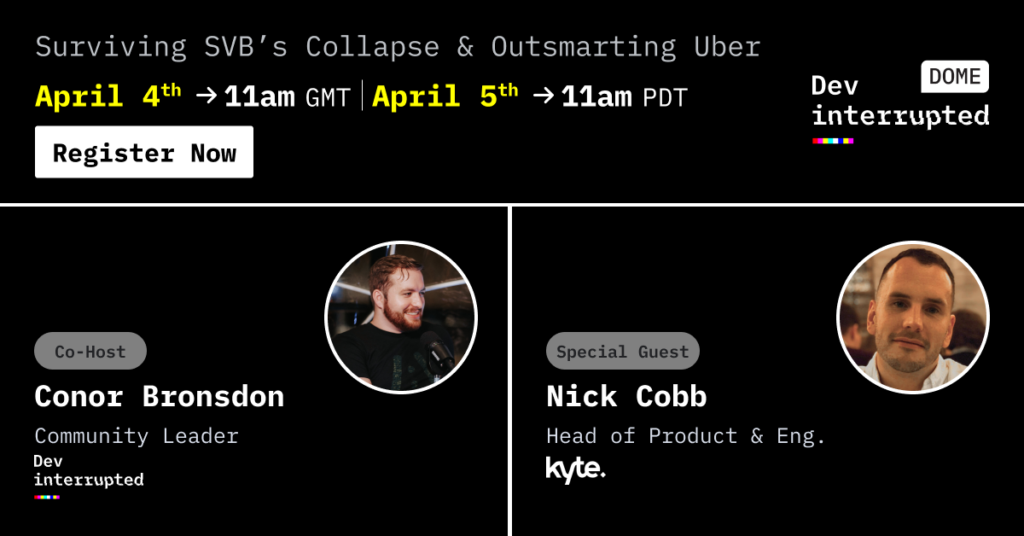 ---
Level-Up Engineering – 4.6 ⭐
We can certainly get down with this podcast that's all about, you guessed it, leveling up. Holding true to its title, this show hosts panel discussions with current and former engineering leaders at companies such as Blizzard, Meta, and Johnson & Johnson.
With most episodes hovering around the 35-minute mark, it's the perfect length for tuning in when you're tuning out of that meeting that could have been held asynchronously. That was a bad joke, wasn't it? *laughs nervously*
But in all seriousness, this is a great program that's perfect for software leaders as it covers everything from effective recruiting to fostering culture and even boosting productivity.
Where can I listen now: Spotify, Apple Podcasts, Google Podcasts
SuperManagers – 5.0 ⭐
If you're looking to become a supermanager, well then look no further. Hosted by Aydin Mirzaee, CEO at Fellow, this podcast dives head first into high-performing management styles exercised by leaders at some of the most recognized companies in the world.
From discussing sustainable work with the co-founder and CEO of Clockwise to exploring the successes and failures of product launches with the CTO at Zoom, this podcast is jam-packed with expert insights that you can use to support your own growth as a leader.
Where can I listen now: Spotify
The Engineering Leadership Podcast – 5.0 ⭐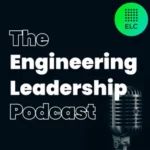 This podcast is quickly developing a reputation for helping to empower a growing community of software engineering leaders. Listeners gain valuable insights from high-level executives sharing their tips and tricks of the leadership trade.
Interviews by host Patrick Gallagher feature industry execs from notable companies like Loom, PayPal, and Salesforce.
Where can I listen now: Spotify
5 Best Software Engineering Podcasts for Devs
The Changelog – 4.8 ⭐
The Changelog successfully taps into all things Open Source Software and shows no signs of …changing (yup, painful pun that was). With 500+ episodes and counting, this is the go-to program that asks hard-hitting questions, without getting lost in the complexity.
Hosts Adam Stacoviak and Jerod Santo invite a raw conversation with guests ranging from high-profile execs to even higher-level hackers.
Anyone can listen in on the conversation and walk away with on-the-pulse insights that you won't find anywhere else.
Where can I listen now: Spotify
Developer Tea – 4.8 ⭐
Developer Tea is a short podcast hosted by Jonathan Cutrell, co-founder of Spec and engineering manager at Guild Education. The pod aims to help driven developers connect to their ultimate purpose and excel at their work so that they can positively impact the people they influence.
And it's affectionately known as "Developer Therapy." As one reviewer put it, "Does the narrator have a soothing, easy listening voice.. yes. However, that is not the real value here. Developer Tea is filled with snack-sized anecdotes that leave you with simple, tactical ways to improve your communication related to software-centric business environments."
CodeNewbie Podcast – 4.6 ⭐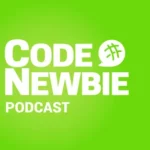 The CodeNewbie Podcast is hosted by Saron Yitbarek, founder and CEO at Disco. Weekly episodes provide stories and interviews from people of diverse backgrounds and expertise about their coding journeys.
As an extension of the CodeNewbie organization—a supportive, international community of people learning to code—podcast content also includes beginner-friendly discussions about the tech you should know about.
Reviewers note: "CodeNewbie is an outstanding resource for those just delving into the world of coding! Great content, delivered in an easy-to-consume format – no matter the topic, I gain something from every episode. Highly recommend!"
Software Engineering Daily – 4.5 ⭐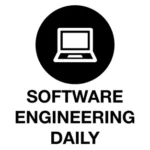 Founder and host Jeff Meyerson conducts technical interviews about technical topics with software engineers from a multitude of companies. This is an ideal podcast for professional developers. His guest list includes Eric Muntz, CTO at Mailchimp, and Michelle Bakels, Program Director, Developer Health at G2i.
One reviewer said, "Whether you're well established as someone innovating in the software engineering world, or just getting started on your journey – this is a must-listen podcast for you! Jeff does an incredible job leading conversations that cover a huge breadth of topics related to the ins and outs of successfully navigating an ever-changing software landscape – from leaders who've actually walked the path."
Software Engineering Radio – 4.4 ⭐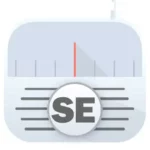 Software Engineering Radio is a podcast for professional software developers by professional software developers. SE Radio covers all topics related to software engineering. Episodes are either tutorials on a specific topic or an interview with a well-known character from the software engineering world. And each episode comprises two speakers to ensure a more lively discussion. Former guests include Abi Noda, founder of Pull Panda and DX, and James Socol of Policygenius.
Reviewers said, "This podcast will get you up to speed on the latest thinking on all kinds of technology topics, from modern database architecture to workflow analysis to developer tools. It is technology agnostic and covers a whole range of areas that you are likely to encounter as a software engineer or manager, no matter what technologies you use day to day."
Other Resources for Devs & Engineering Leaders
Maybe you're a new manager who isn't really into podcasts. (Or maybe you're just looking for resources to further your career in engineering.) That's okay!