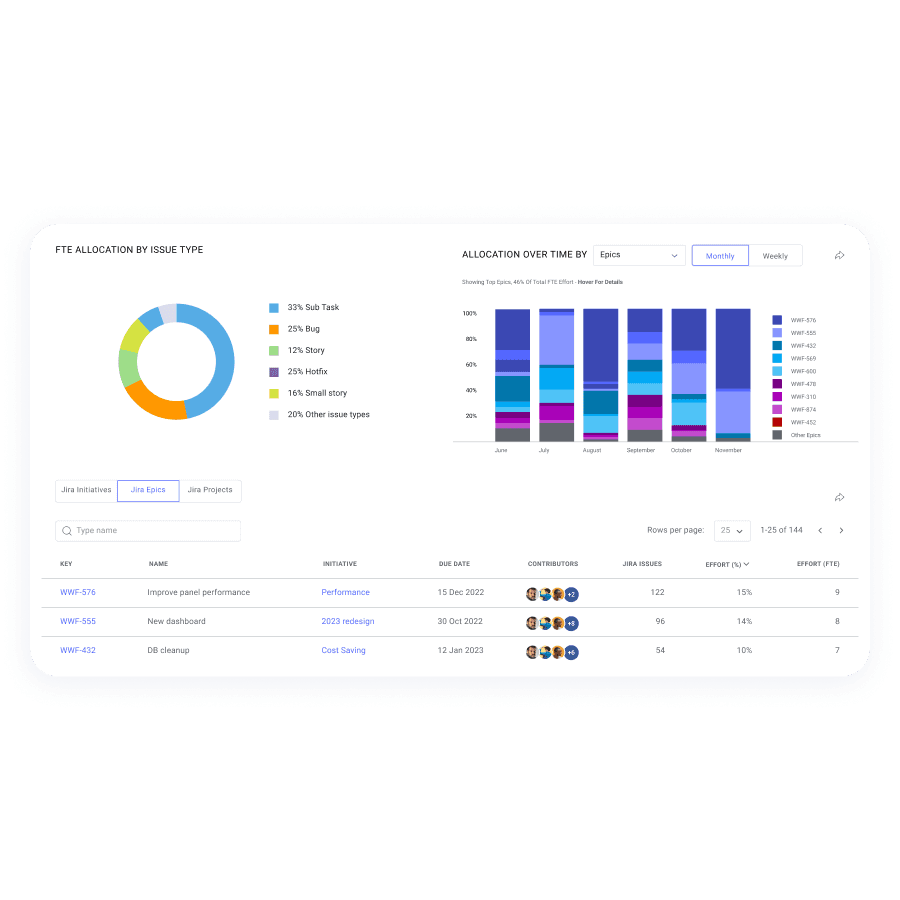 Optimize R&D Spend

to Meet Business Goals
Show where engineering is investing its resources and help stakeholders see what that means for the rest of the business–using flexible data everyone understands. LinearB automatically configures resource allocation data and makes it easy to see:
FTE effort by project, initiative, team, or any custom field
How resourcing decisions will impact project delivery
Actual spend against engineering budget
We correlate data across your tools to identify bottlenecks and automate developer workflow optimization.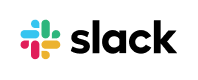 Two Equally Important,
Very Challenging Responsibilities
Engineering leaders have a lot on their plates. One of the biggest "servings" is prioritizing and investing in projects that will delight customers and help drive business impact. But this is often easier said than done. The reality is that many engineering leaders (and the teams they lead) don't have a way to connect R&D project investment to costs, business priorities, and ROI–not to mention how these things will affect project delivery predictability
Balancing Engineering
and
Business Needs
Translate engineering health to business impact with Resource Allocation reporting. This rich information–combined with
Project Delivery data
– gives leaders the tools they need to showcase how engineering investments impact delivery timelines, the real cost of unplanned work, and projected ROI of engineering efforts.
See resourcing for active projects, epics, initiatives, or custom fields
Determine FTE effort being spent on these investment areas
Look at what dev time and effort translates to in actual costs
Improve with playbooks, guides, and presentation templates 
LinearB Helps You
Live in Both Worlds
Connect your projects' resource allocation to delivery performance and business goals so everyone–from sales to marketing to the C-suite–can see and understand engineering's impact. LinearB makes it easy to show:
Justification for resourcing decisions
The business case for additional engineering headcount
The effect of unplanned, "must do" work on delivery predictability
LinearB Helps You
Live in Both Worlds
Ground conversations and negotiations about resourcing, timelines, and headcount in real-world data rather than gut feeling. 
Align engineering to the needs of the business
Illustrate the downstream effect of moving resources
Adjust priorities confidently when the next P0 bug or "must have" feature comes up
Configure resourcing data by epic, project, functional area, labels, custom fields, and more
LinearB Helps You
Live in Both Worlds
Stop digging around in unintuitive PM and issue tracking tools. LinearB gives you a single dashboard that shows you:
Business-focused data for projects, initiatives, epics, or custom fields
The connection between resourcing and delivery status
How those projects are resourced (including actual costs)
After adopting LinearB, conversations started happening that weren't before. My team leaders started coming to me and saying things like, our pull request reviews are taking too long, how can we reduce that? They were self-organizing, focused on improving themselves."
Kent Tangen
CTO
|
Illuminate Education
The Power of Combining
Engineering and Business Metrics
Become a
Business-Minded
Engineering Leader
Integrate Your Issue Tracking and Project Management Tools
Connect PM tools to LinearB and see your boards, epics, labels, initiatives, and other custom data in one place. Then look at where you're putting your dev resources and what you can
optimize with automation
.
Translate Engineering Project Effort into Money Spent
See where your resources are being spent then input the average salary of your team members and get an accurate picture of what each of your projects, initiatives, and epics actually cost.
Make Adjustments and Recommendations Based on Empirical Data
Negotiate priorities, showcase engineering's impact in business terms, and offer data-backed suggestions on how to scale efficiency and where compromises are possible.
Documentation
Learn how LinearB metrics can help you improve work breakdown and reduce cycle time, change failure rate, and mean time to restore.
Read LinearB Documentation
Blog
Explore the details of software delivery excellence, PR workflows, and how to persuade the boardroom as an engineering leader.
Podcast
With 13,000+ community members, Dev Interrupted is your weekly source for what engineering leaders are thinking, doing, & solving.
Listen to the Dev Interrupted Podcast