The FIFTH EPISODE of Dev Interrupted––the Hebrew Edition has DROPPED. In this episode, Yishai Beeri, CTO at LinearB, chats with Eti Dahan Noked, VP R&D at Wilco about skilling up your engineers...how this differs from regular training and onboarding, and who's responsible for the success - managers or the engineers themselves? Eti shares some interesting insights both from her own career experience as an engineering leader, and her current role at Wilco, the platform built for skilling up engineers.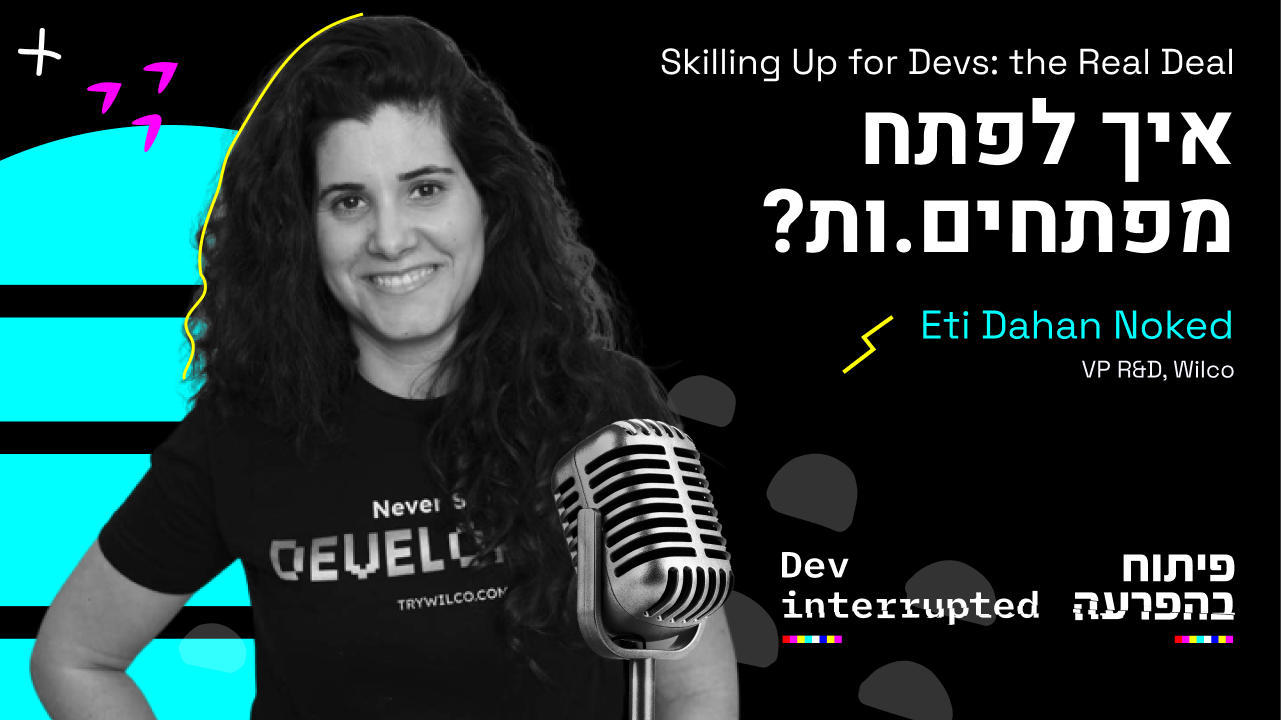 We can't believe we've already reached the FIFTH excellent episode in the series, and we wanted to do a quick recap, ICYM our previous episodes on a diversity of topics that were really fun to record and full of excellent advice from seasoned engineering leaders in the industry.
Episode 1: Adi Shacham-Shavit
In our first episode, "Is the VP of Engineering Just a Glorified Project Manager?", one of the most seasoned engineering leaders in the Israel community––Adi Shacham-Shavit SVP R&D at Transmit Security, drops deep wisdom on the many different aspects of engineering that have changed and evolved over the past two decades ––everything from process and practice through culture, quality, and ownership.
She takes a deep dive on how the VP Engineering today needs to bring a lot more business value and perspective, than the common misconception of just being "a glorified project manager". Today this role has a much greater responsibility of translating and connecting engineering work to the company vision and purpose, she gives some tips on how to do this, and ultimately why this creates better engineers.
Episode 2: Linoy Shkuri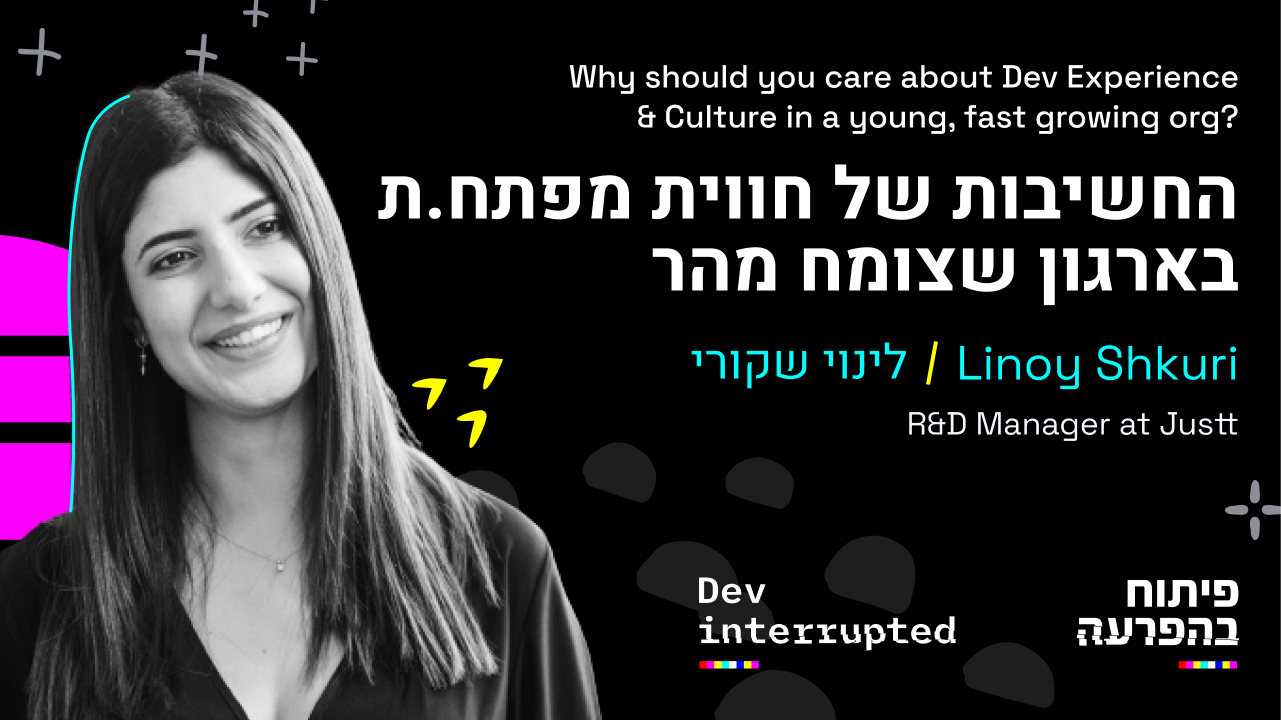 In episode two, Linoy Shkuri, R&D Manager at up and coming finserv startup Justt, talks about the joy of working in a SaaS company, and the fun with tinkering with really exciting new dev tools built with developer experience in mind in the episode "Why should you care about Developer Experience in a young, fast-growing startup?" She shares why it's important to take a meaningful part in your local developer communities––as developers and companies, and to never be afraid to fail at something new today. Just be ready to pick yourself up, dust yourself off and fix it.
An important takeaway that Linoy shares is that as engineering managers we need to think about what will make our developers' time memorable and meaningful––how to make sure they understand that they have grown in their time at this company.
Episode 3: Nofar Ben Kereth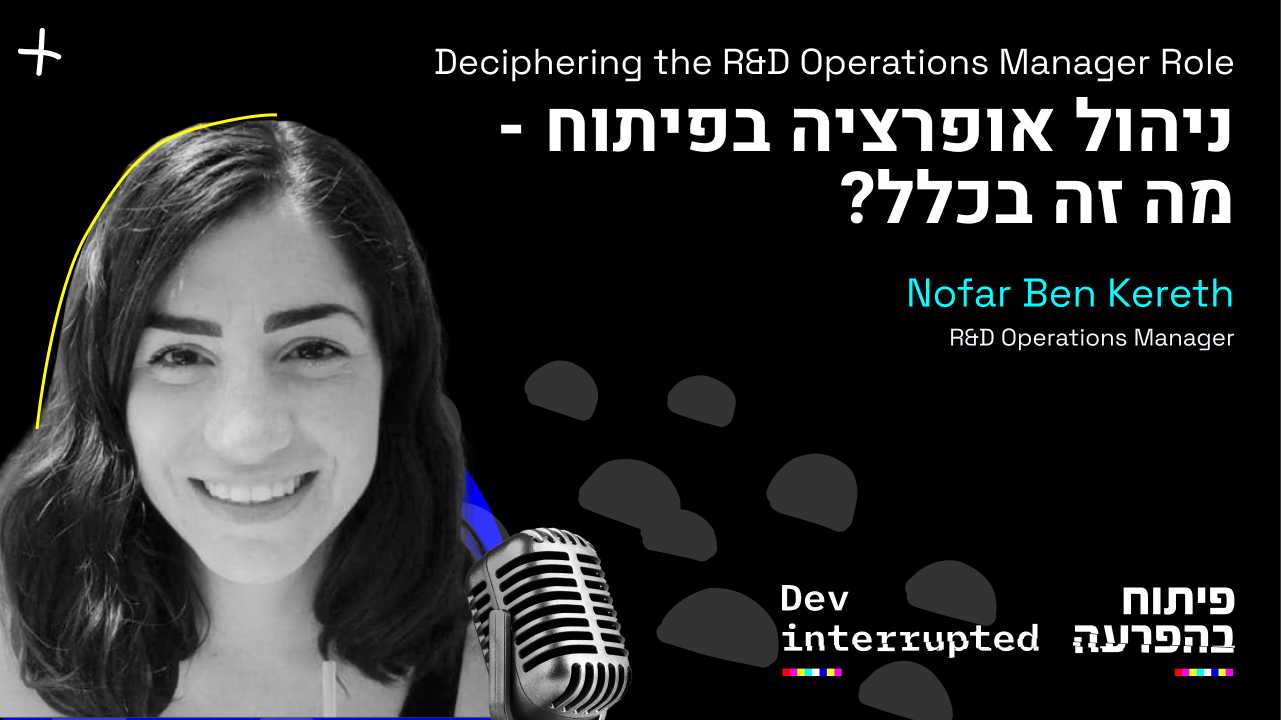 Our third episode with Nofar Ben Kereth from Cloudinary, "Deciphering the R&D Operations Manager Role" takes a look at an emerging role in growing engineering organizations––R&D Operations, similar to product operations in product management and marketing operations in marketing. The R&D ops role comes to fill a void of the many non-specific, and oftentimes organization-wide challenges that growing companies need to overcome.
Nofar did an excellent job of demystifying what this role consists of, what's in scope and out of scope, how this role interfaces with other similar ops roles in the company (have we mentioned product ops), and even how to motivate and drive folks to align with processes when they aren't your direct reports.
Episode 4: Daniel Korn and Karni Wolf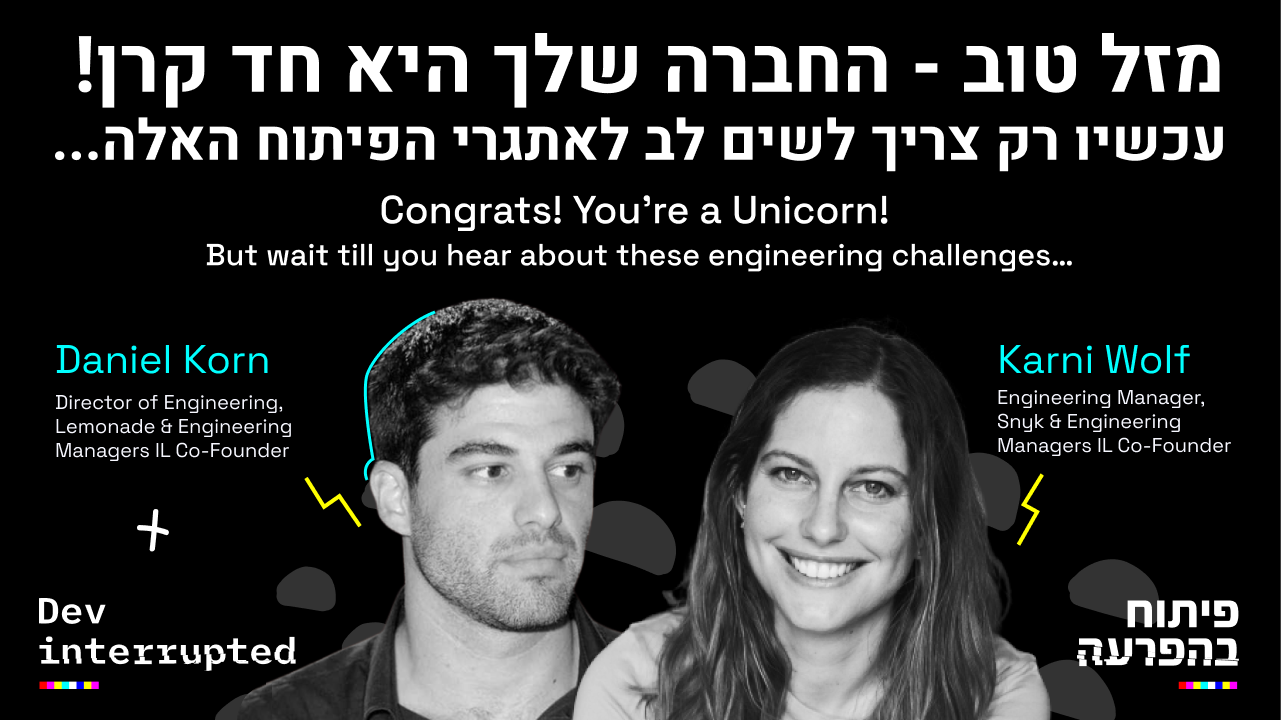 In our previous episode of Dev Interrupted featuring Karni Wolf, Senior Engineering Manager at Snyk, and Daniel Korn, Director of Engineering at Lemonade––who together also lead the Engineering Managers IL community. This episode, "Congrats! You're a Unicorn! But wait till you hear about these engineering challenges" is chock full of wisdom from two seasoned engineering managers in unicorn companies, that takes a look at engineering leadership in a rapidly growing and hyper-scale startup. Karni having grown with the company, and Daniel coming into a unicorn from a scale-up (later turned unicorn - BigPanda) provide different perspectives of evolving into a unicorn, and conversely landing in a unicorn.
They share some of the trials and tribulations, and things they've learned on the way, and provide some tips for aspiring engineering managers and engineering leaders in growing companies.
We have more great episodes coming that will focus on ICs and how they interface with engineering managers, Dev Advocacy from a senior perspective and interfacing with engineering managers and much more. Make sure to stay tuned…and we're always looking for more guests, so REACH OUT HERE if you like to nominate a guest for the show.
Starved for top-level software engineering content? Need some good tips on how to manage your team? This article is inspired by Dev Interrupted - the go-to podcast for engineering leaders.
Dev Interrupted features expert guests from around the world to explore strategy and day-to-day topics ranging from dev team metrics to accelerating delivery. With new guests every week from Google to small startups, the Dev Interrupted Podcast is a fresh look at the world of software engineering and engineering management.
Listen and subscribe on your streaming service of choice today.