"DevOps is dead."
Well, not exactly. But the DevOps methodology of "you build it, you run it" has been failing development teams for years.
On this week's episode of Dev Interrupted, we sit down with Kaspar von Grünberg, founder & CEO of Humanitec. Listen as Kaspar explains the significant cognitive load placed on developers as a result of DevOps practices, how that has caused software engineering to be the only industry since Medieval times not to drive towards specialization, and why platform engineers provide a solution to the outdated DevOps model.
Episode Highlights:
(2:24) What is platform engineering?
(7:05) Should VPEs have a platform team right now?
(11:29) Difference between SREs and platform teams
(17:14) DevOps is dead
(19:11) How scale affects team size
(26:12) Standardization of the space
(28:08) Kaspar's work at Humanitec
(32:30) The future of platform engineering
---
Live from New York it's... Dev Interrupted!
Join the Dev Interrupted community to discuss the Silicon Valley Bank crash, how Uber's engineering team lost its way, the challenge of AI self-driving, and Kyte's experimental product innovation playbook in this special live-streamed episode of Dev Interrupted, filmed in front of a live audience at NYC LeadDev.
Kyte's Head of Product and Engineering, Nick Cobb, joins co-host Conor Bronsdon for this in-depth podcast streaming April 4th and 5th.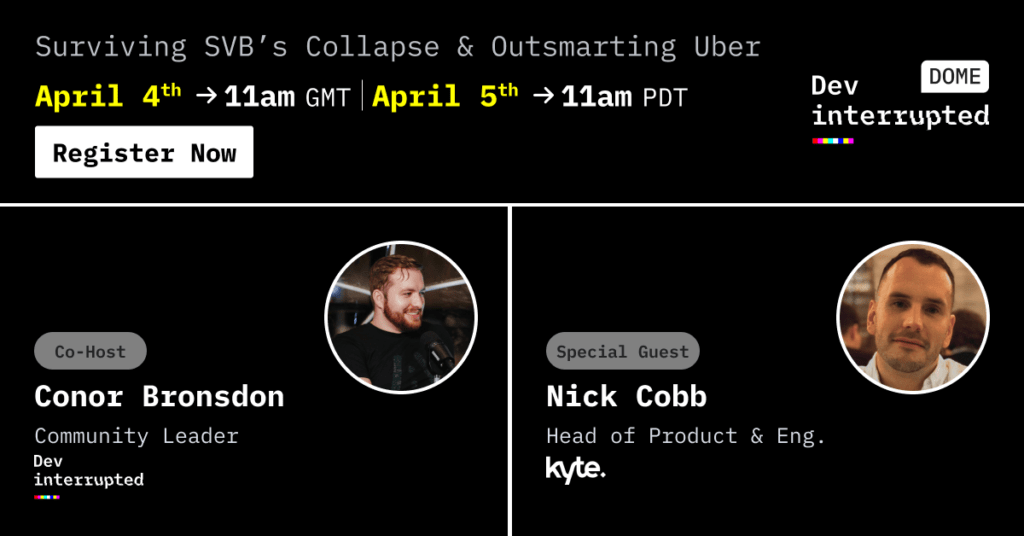 ---