What does building an engaged community really mean for your business?
When we look at a company like Postman with over 20 million active users and one of the most passionate groups of evangelizers in tech, we find that Postman's story is really a story of community success. In fact, after product-market fit, community has become a must-have for any startup looking to survive. But community building is a tricky thing, so where and how do you start?
On this week's episode of Dev Interrupted, listen as Joyce Lin, Head of Developer Relations at Postman, shares the secrets and behind-the-scenes lessons learned from building one of the most successful communities in tech. Joyce is also an expert TikToker, diving into its algorithm, its relevance for developers, and whether or not engineering leaders should devote attention to building a community on the platform.
Episode Highlights:
(1:53) APIs are "table stakes"
(7:29) How Postman's founders approach community
(14:26) Day-to-day community building
(17:03) Not mistakes, lessons learned
(20:34) The rise of TikTok
(25:21) It takes 70 posts to find your niche
(26:36) Joyce's community building advice
---
Live from New York it's... Dev Interrupted!
Join the Dev Interrupted community to discuss the Silicon Valley Bank crash, how Uber's engineering team lost its way, the challenge of AI self-driving, and Kyte's experimental product innovation playbook in this special live-streamed episode of Dev Interrupted, filmed in front of a live audience at NYC LeadDev.
Kyte's Head of Product and Engineering, Nick Cobb, joins co-host Conor Bronsdon for this in-depth podcast streaming April 4th and 5th.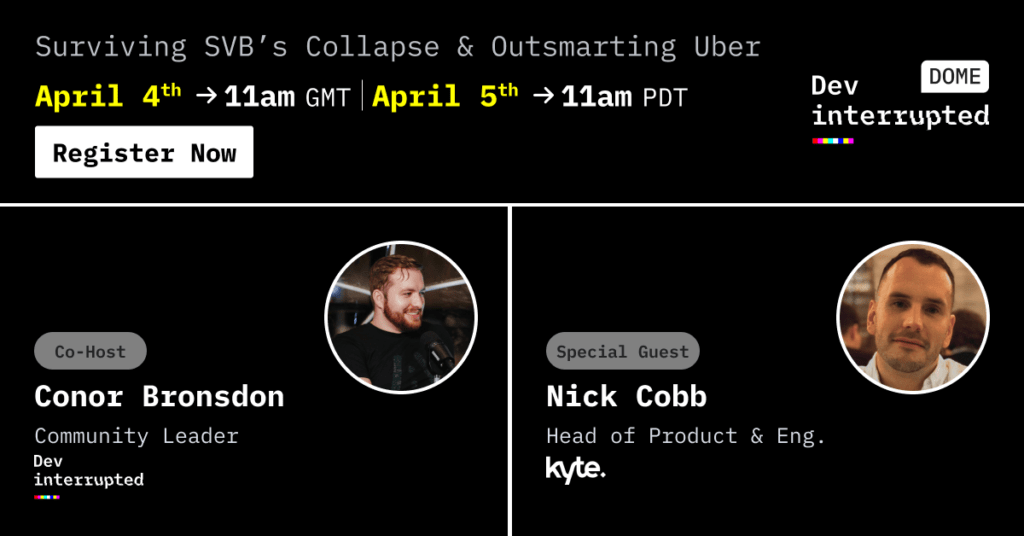 ---