Deployment frequency is the "heartbeat" of every tech company. If it lags behind a company's road map, every single department suffers. Sales doesn't deliver on promises. Revenue isn't booked. Accounting needs to figure out where to cut. Yet when an engineering team is able to increase its deployment frequency, it generates momentum, optimism, and better ROI on everything.
From an engineering perspective, improving deployment frequency also means that developers are focusing on writing code, not toil, rework, and bottlenecks.
Case in point: Unbabel.
Unbabel is on a mission to become the world's translation layer. To help them achieve their mission, Unbabel's VP of Engineering, Jonathan Sowler, reached out to LinearB to help build a world-class engineering department. After adopting LinearB, the engineering team at Unbabel saw a 110% improvement in deployment frequency along with an overall improvement in team happiness.
Here's how LinearB is helping them achieve that mission.
LinearB integrates & delivers insights immediately
One of the benefits of working with LinearB is that we go the extra mile for the customer. Just like it doesn't do much good to buy a gym membership in a different zip code, our platform doesn't do our customers any good if it can't integrate with their systems.
"I think the easy thing is, you did a lot of the heavy lifting," said Jonathan on the Dev Interrupted Podcast when discussing his decision to choose LinearB over other metrics tools. "The LinearB team worked with our teams to understand the tool, helped us configure the environments, and helped with Slack integrations. It was adopted seamlessly within a very short period of time."
LinearB is the only tool that integrates a team's project management system and their Git repositories to provide a unique view into how teams work. Unbabel quickly connected LinearB to their Jira instance and GitLab repositories.
(Too good to be true? Dive into the Unbabel case study for a breakdown of these metrics and more.)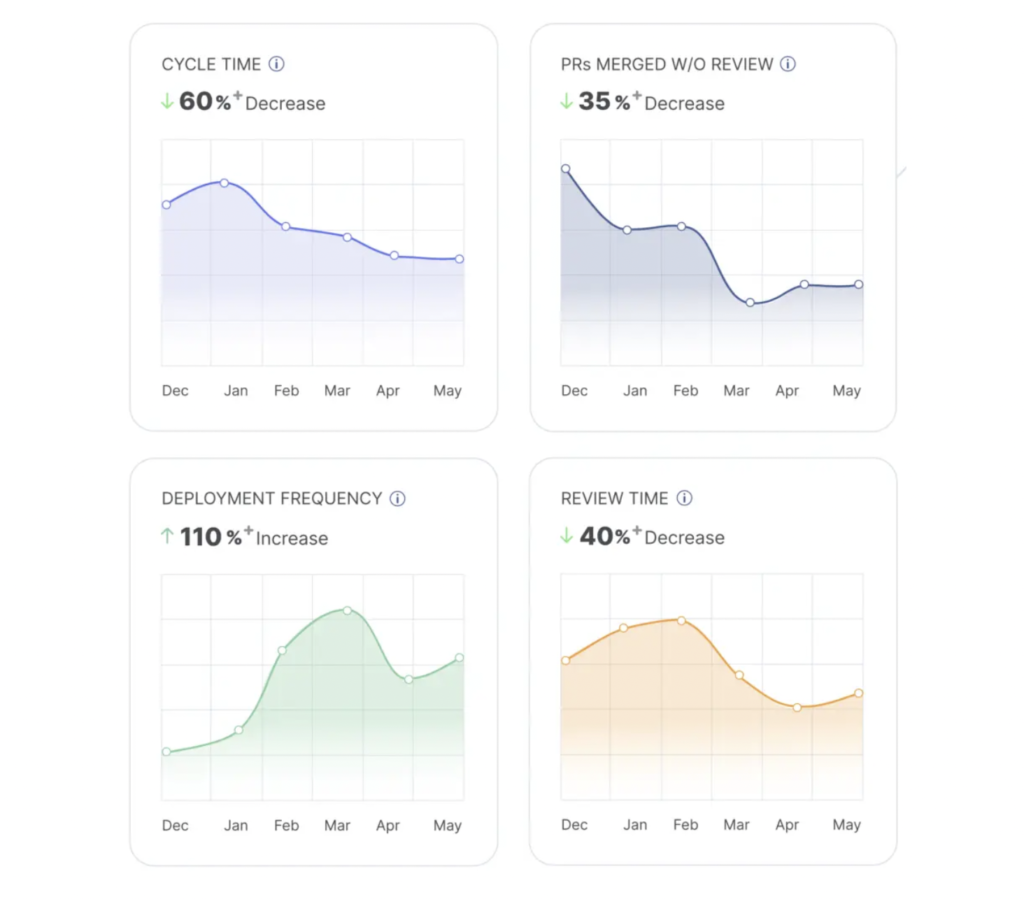 "It was all very democratic. The LinearB team walked us through the product and answered our questions," said Sowler. "Then we went off for a couple days to discuss if this was right for us. Our teams are focused on continuously improving, which to us means transparency. Everyone understood this was a tool that would generate healthy working practices."
LinearB makes teams work better, not just individual devs
Unbabel understands what LinearB has preached all along: That measuring individual performance hurts team culture. When you measure team-based metrics, you are able to track meaningful data without hurting team culture.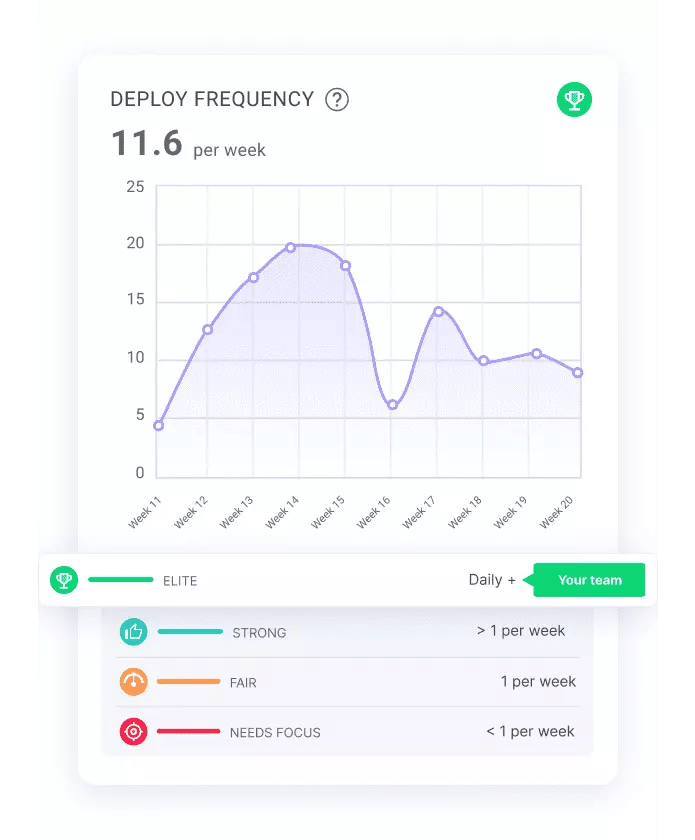 With greater visibility into your engineering team's numbers, comes great responsibility. One of the things we see from companies that utilize LinearB is an increase in conversations. Things like, "What are our bottlenecks?" become open dialogues between engineers and team leads.
As Jonathan put it when they adopted LinearB, "We were careful not to hand it over to the senior management team and say, 'Now manage the engineers.' We gave it to the engineers and said, 'This is healthy.'"
"Most engineering teams are self-correcting. If you show them how they're measured and you work with them in a psychologically safe way, they want to do a good job and deliver something of value."
WorkerB empowers devs to make smarter, one-click decisions
As proud as we are of our WorkerB functionality, it can only help so much. It needs to be coupled with the right practices. Software engineering is a team sport, and WorkerB helps your team go the distance by providing automated team-level and personal Slack alerts that decrease project idle time and encourage best practice behaviors.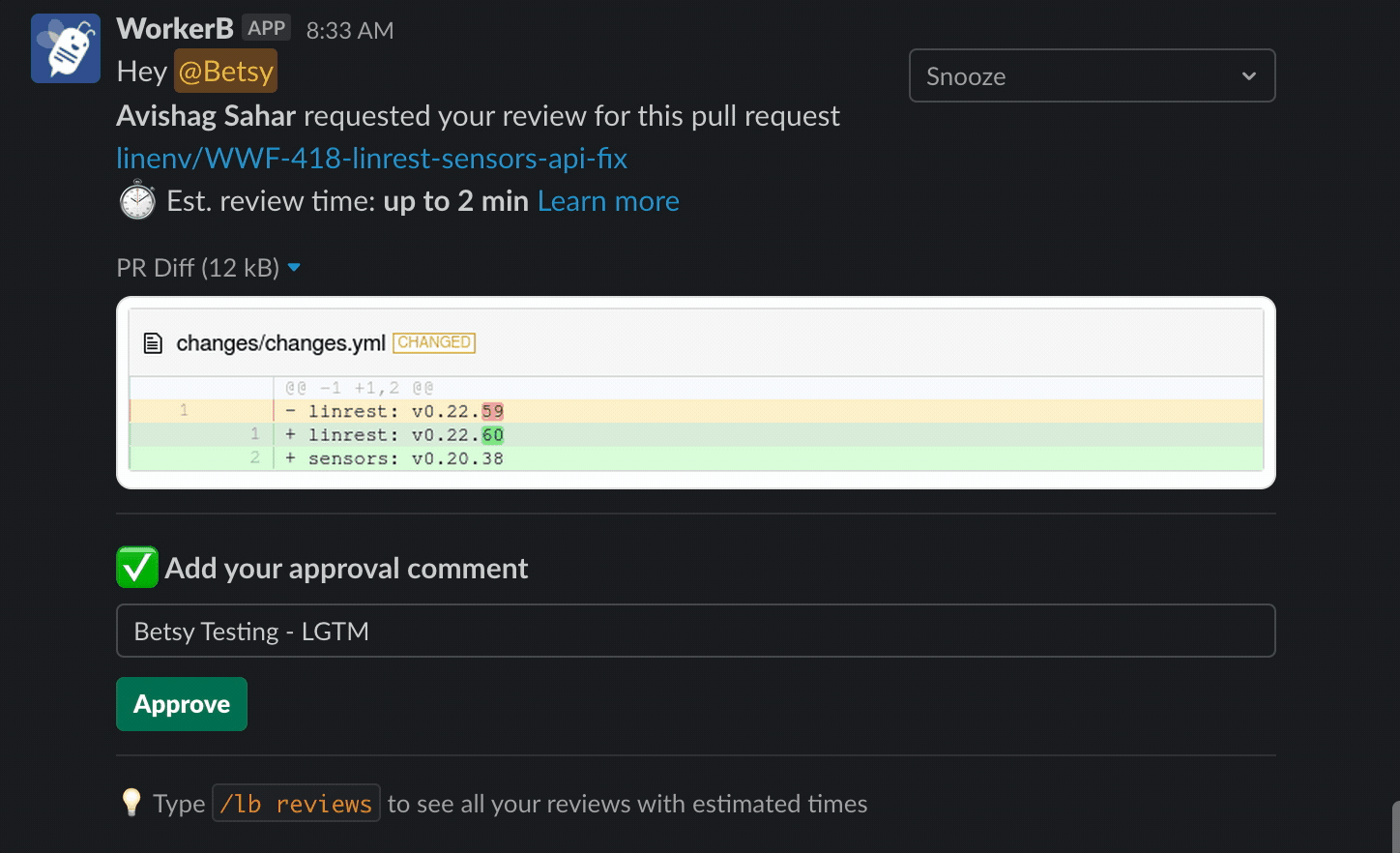 When discussing success and best practices Jonathan said, "The WorkerB functionality absolutely supports that and contributes to it. If you imagine what we have as a great big pipeline, the change the one team makes is going to impact people down the pipeline." He continues, "WorkerB helps engineers focus on the right things. Software development is a process, you can't just do the coding. You've got to balance coding with reviewing, and WorkerB reminds them to stop working on the new thing and go review some code."
The combination of the right practices with conversations contextualized by LinearB data makes for engineering team rocket fuel, and WorkerB is the booster.
Unbabel doubled deployment frequency… so can you
In the six months since Unbabel implemented data-driven engineering practices with LinearB, they've experienced incredible improvement. "LinearB helps scaling companies mature their engineering process. They make things predictable, but also best in class."
To be a world-class organization, Jonathan needed a data-driven approach to his software engineering process. "I wanted the engineers to see how they're working, to learn what good practices are and move in that direction."
With visibility, metrics, and Dev Workflow Automation from LinearB, he found the solution.