Fix Your Pull Request Process.
It's the Most Wasteful Part of the Development Lifecycle.
Our Engineering Metrics Benchmarks include pull request guidelines for pickup time, PR review time, and PR size. For the first time ever, you can set working agreements with your team based on industry standards using Team Goals. Then let our WorkerB bot keep them on track automatically.

Join the thousands of teams already using LinearB to standardize their Git pull request process. Start improving your code quality and engineering efficiency today.
Our Engineering Metrics Benchmarks include pull request guidelines for pickup time, PR review time, and PR size.
Rated 4.7 ⭐ on G2 for VSM Software
The product helps us understand our weak points, and what should be improved while emphasising the team as the persona and not measuring each individual. They deliver cool new features all the time while listening to customers requests.

A great product for visibility into engineering organizations. I love the fact that it analyses our main bus, Git, and also integrates with our issue tracking platform. In addition, LinearB has a great customer success and support team, and we're getting immediate attention on any requests and issues.

Trailblazing, Valuable Tool for Code Analysis. I love the depth and breadth of LinearB's analysis. I love the quality metrics that I get. I can see what projects need help, what teams are doing and how productive they are, and I can put my effort where it is most needed using the tools they provide. If an area of code is churning, I see that right away. If a PR is stuck, I know it. Basically, I can see what is really happening in my codebase.
A very well-designed solution. The onboarding process was such a great experience, something to marvel at in the midst of all the intentional complexity found in most products these days. Setting up my LinearB account from Gitlab to Jira to Slack integration was super smooth with accurate detailed instructions available along the way.

Measurable business impact after 120 days
We have the metrics...
but metrics alone
don't improve
dev teams
Managers identify PR bottlenecks & track team goals
Set working agreements together with your team for the goals you want to meet, leveraging the team's leading and lagging indicators.

Fortunately, LinearB isn't here to just give you metrics; it gives you the tools to take action and improve your pull requests. Teams can set customized goals and use them as a guidepost at every ceremony to ensure alignment and keep everyone on track.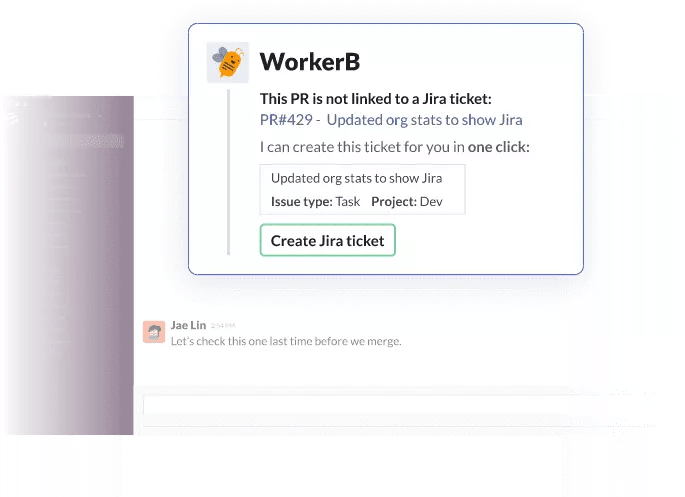 Developers spend less time on annoying PR tasks and more time creating
Once your plan is in place, it's time to take action. Developers are the agents of change, and you need to give them a low friction way to execute.

WorkerB is the pull request tool for driving improvement across your development teams. This automated bot – designed specifically for developers – alerts teams to events that can negatively impact your pull request process, such as long PR review time and large PR sizes.
We correlate data across your tools to identify
bottlenecks and automate developer workflow optimization.